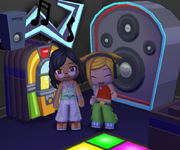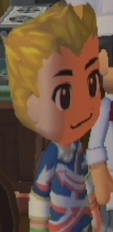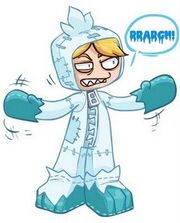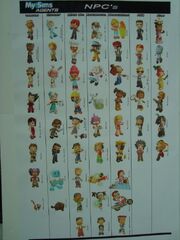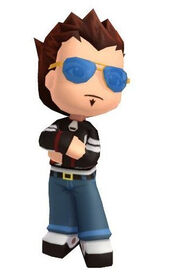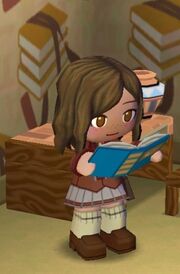 Hi,there!I'm really glad that I made my own account on here,and I would really like to help.I'm Secretive13, but everyone on here calls me Secretive, Secret, or S-13(now 14)!My character's name is Amanda Jane.(My real name is Ashley.If you want to call me that,you can, but not evil trolls! You evil trolls are NOT allowed to say my name! Thats final)! In the all of the MySims games,I always name my character Amanda Jane and my town New York for no apparent reason.Guess it kinda got stuck to me.
Nicknames on the WikiEdit
1. Secretive
2. Secret
3. S-13
4. Secretivewoman (only called like that by Blanky)
5. Secretively (called by Holli)
6. S-14 (sometimes called by Skyler)
7. Decorative14 (called by Katrina)
8. Secretivito (randomly called by Corey and Steven)
Uh? I don't know. I hate evil people (excluding Preston.) I really don't know any random facts about me.
I secretly try to dress in black clothes if I'm in a bad mood.
Well um... I'm kinda... hyrophobic around pools, sprinklers, and oceans. *hangs head in shame*

I always put sugar in my Frosted Flakes cereal (if my dad buys it)...
I love all colors of the rainbow except pink.
Interests
Loves:
Geeky
Likes:
Tasty
Hates:
Studious

MySims KingdomEdit
Food
MySims Party Stats(I always use the"Strong" setting whenever I play a festival) Edit
Strength-4
Speed-3
Luck-3
Stamina-3
MySims RacingEdit
Car Class Weight: Small
Paint Colors: Yellow/Green
Decals: Hearts on both sides of doors
Wheels: Hearts
Front and Back Bumper: Heart- shaped
Headlights: Small
Hood Ornament: The little pink robot from MySims
MySims AgentsEdit
Hangar
Travis
Lyndsay
King Mike
Loft
Preston
Violet
Annie
Patio
Leaf
Renee
Petal
Basement
Agent Rosalyn
Agent Vic
Professor Nova
If I were in MySims Agents, my status would be...Edit
3 Paranormal
2 Smarts
About Me Edit
I can be really shy around people who are not on the Internet.At school,it's really difficult for me to speak in class sometimes.During the morning and recess,I usually like speaking to my friends.Also,the MySims are AWESOME!!!I feel comfortable playing the games.I have a few boys who I am friends with,but I can also be shy around boys,as well.Like,mega-ultra shy.Anyway,I like Mexican food,playing the MySims games,love to help with about anything,a true geeky person(but not too geeky),and I am always ready to help my own little sister with her work.Okay,so if you want to at least ask me something,go ahead,as long as it has nothing to do with my personal life. I'm also half Mexican and half Peruvian, but I was born in New Jersey.So, I speak some Spanish,but not advanced Spanish.
About my town New York Edit
I have a lot of Geeky Sims,with some tasty Sims,maybe some Cute Sims,some Spooky Sims,and some Fun and Studious Sims.Amanda Jane has a little sister named Isabella.More is read on MySims Fanon Wiki on my user page.
My Mysterious Violet Word BubbleEdit
Secretive13

– I can keep a secret.




TALK

 

– Life can be so mysterious.
Sims That I Really Like Edit
Sims That I Really Like

Violet
Friendship Level:
She's kinda cool and spooky.I especially like her hair in MySims Kingdom.It looks really nice.

DJ Candy Supergroove
Friendship Level:
I mean,who wouldn't like her?!She rocks!!!I go to her parties all the time!!!

Gertrude Spackles
Friendship Level:
Well hello,who doesn't like science?

Renee
Friendship Level:
Who doesn't like animals?!

Sasha
Friendship Level:
Somehow,I agree.Bananas are good for you.

Yvette
Friendship Level:
It's really funny having someone be all mute and stuff.

Ian Anerson
Friendship Level:
He's really sweet and...0_0 ♥ And I think he likes me...possibly.

Chaz McFreely
Friendship Level:
He's really cute and...0_0 ♥

Derek
Friendship Level:
I just do,OKAY?

Preston
Friendship Level:
He's super CUTE with a capital C and...0_0 ♥ Plus he's my boyfriend. Mine I say! Just kidding. Heh.

Evelyn
Friendship Level:
She looks exactly like Ada Wong,right?

Nova
Friendship Level:
Aliens TOTALLY EXIST!

Buddy
Friendship Level:
He's seriously cool in all the MySims games!

Raven
Friendship Level:
She's now my favorite! She loves darkness, and hates life like me! And I love her appearance in SkyHeroes! She looks so pretty (so's Violet. Violet's still my favorite, but not much).
Sims that I just DESPISE Edit
Sims That I DESPISE

Summer
Friendship Level:
In MySims Kingdom,she was crowned queen and danced with Chaz!What the heck was that?!

Beebee
Friendship Level:
HELLO,she was Preston's girlfriend for goodness sake!
Games that I own Edit
MySims(Wii)
MySims( DS )
MySims Kingdom(Wii)
MySims Kingdom(DS)
MySims Party(Wii)
MySims Racing(Wii)
MySims Racing (DS)
MySims Agents(Wii)
MySims Agents(DS)
MySims SkyHeroes (Wii)
Games that I don't have yet Edit
MySims Party(DS)
MySims SkyHeroes (DS)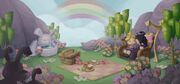 Favorite SmiliesEdit
1.

 : Because I'm like that sometimes.
2.

 : Everyone should know why.
3.
 : Sometimes at Summer.
4.

 : At Summer.
5.
 : For strange things occuring.
6.
 : For good things.
7.
 : My new favorite.
8.

 : When I'm annoyed or for RPs.
Neutral SmiliesEdit
Disliked SmiliesEdit

 : Just plain creepy.

 : Don't know why...
 : Again, don't ask.
 : Don't know...

 : ???

 : Again, ???

 : What the heck? 0_0

 : Like above.
 : I don't feel like using that if I'm happy... ever.

 : Really?!
: NOT cute at all.

 : TOO cute in my opinion.

 : *shivers*

 : Just nasty-looking. (No offense).

 : I hate this one... almost.
 : What the heck?! I eat mangoes and now I'm afraid to eat them! (I still eat mangoes but still)...
 : TOO CUTE!!! *almost goes blind*

 : Don't use this smilie around me... please or I'll lose my temper on you.
 : That... is... *word that's not a bad word really*.

 : BURN TO HECK!!!! *burns smiley and all cheerleaders into ash*
More coming soon!
Buddy List (The Gals)
Edit
True Friends and Best Friends (The Gals)

Skyler
Friendship Level:
She first introduced me on this here Wiki, and we've been talking since!

Blanky
Friendship Level:
Very random yet nice. Also a very BIG fan of Leaf.

Emily
Friendship Level:
She's pretty cool, nice, and awesome to talk to.

Hikari
Friendship Level:
A funny yet random girl.

Holden
Friendship Level:
Things about Holden... very random and a bit annoying since he first came here. (No offense Holden if you're reading this...) But somehow, I put up with him and his randomness. He may anger me sometimes, but hey I stay cool about it. (Was I talking slang? o.o)

Katrina
Friendship Level:
To Be Added Soon.
Favorite Songs And (Some) Reasons Why I Like ThemEdit
Songs by Ke$ha
Backstabber: Summer and Beebee are like that.
Your Love Is My Drug: Nice beat.
Tik Tok: First song that I liked, but I like Backstabber more! (Sorry Skyler!)
Songs by V V Brown
Shark In The Water: OMG awesome!!!

Songs By Rihanna
Cry: I feel like...
Rude Boy: Just a cool song.
Hard: This song seriously fits to be the theme song for MySims SkyHeroes!
More soon!
Community content is available under
CC-BY-SA
unless otherwise noted.