Puffles Rule is
ONLINE

Ello. Here are some names I go by... Puffles, PR (switch it, and it's RP), Puff, Puffy, Pufflesman, Puffely, Reeses Puffs, Puff Person, Puffles Master and of course Puffles Rule. If you want to call me any of those, you can. I only have 2 of the MySims games, but I play them often because they are RAWKING (Annie Radd reference)!!! One thing that I hate on this wiki be teh llama trolls, they ruin everything (I wish this wiki was troll-free). If you'd like to talk to me, you can go to my talk page...got it PUNK? I became a rollback on November 22, 2010. Whee. Also, contact me on deviantART. I also make Snowflake Awards, so ask me to tell me which ones you got, or look on my blog.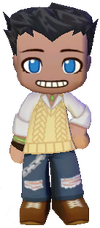 Puff's Status
Edit
What's newEdit
Stupid Spring Allergies


Updated Sunday, April 3, 2011
I have Spring Break for two weeks... lets parteh!
What I'm doingEdit
Mood: Sick
Currently thinking about: Nothing.
Current obsessions: Total Drama: Revenge of the Island
Listening to: Trouble Me by Megan Joy
Reading: Computer Screen
Watching: Computer Screen
Playing: Nothing
Eating: Nothing
Drinking: Saliva
Hoping for: My Allergy's to Go AWAY
In the mood for: Popsicle
I'm a very shy person at first but once you get to know me... I could get really crazy! I have worked on the wiki for more than a year which has been loads of fun. I have met a lot of awesome people on this wiki, but my best friends would have to be on my buddy list. Anyways if you need any help I would be proud to help you with anything.
Interests
Edit
Loves: Fun
Likes: Geeky
Hates: Spooky
Snowflake Awards
Edit
Favorite Smilies
Edit
1.

 : This spining Layton is so kawaii (Japanese word)!
2.

 : I seen you scratch your bottom!
3.

 : Maybe he lost a game...
4.

 : Poor gingerbread man!
5.
 : Someone's a little grumpy today.
6.

 : I just like it...
7.

 : He looks so kawaii!
8.

 : Usually use them when someone's doing something weird.
9.

 : Give me a P-U-F-F, what does that spell? It spells Puff!
10.
: Oh gosh! It be-eth Lady Gaga.
Word Bubble
Edit
Puffles

– My new favorite word: Kawaii (Japanese for "cute".)




TALK

 

– I'm seriously lazy too put the time, can't you look at or sumthin'?!

Puffles says, This is my word bubble!
Tardisgirl98: I sing in the shower. o.o
Hikari: I have a facebook, but no one will ever know who I am!
StrawberrySherbert: My birthday is May 26, just three days before Secret's birthday.
Achievments Before I Leave the Wiki
Edit
Become an Admin (o)
Become a Rollback (x)
Make 10,000 Edits (o)
Wiki's I Go On
Edit
My Best Buds
Edit
Puff's Best Peeps

Secret
Friendship Level:
My first day on the wiki, a troll was being mean to her. But we talk a lot, like we actually know each other. We both like violet, but I didn't like Violet at first. After playing MySims Agents, I thought she was nice!

Holhol
Friendship Level:
We started to get to know each other on a blog, and we got along well! If we have another admin election, I would vote for her because she makes amany edits.

Hikari
Friendship Level:
We get along great and we both like Total Drama, but who doesnt? We're both in a camp created by her, and it's super cool. I haven't seen Hikari, maybe she be dead (JK!).

Skylar
Friendship Level:
She had a bit of a hiatus and then I met her! Um, well, she is definitely crazy and she seems to like my new nickname for her... Queen Sky! Plus, we both have the same name.

Sneaks
Friendship Level:
We both became rollbacks at the sime time...! I gave her a box of tissues and then we became friends . On a camp, she has this bear named Arthur, which be very strange... o.o Plus, she has a weird obsession of marshmellows, but I do to!

Natalie
Friendship Level:
Natalie is really cool! It's ironic because my cousin's name is Natalie. Sometimes she could be weird like saying that my head was going to explode...

Katrina
Friendship Level:
She's a good friend and we both just turned into rollbacks. I suggested her to be one, and we were both happy. I kinda got mad at her because she drew someone with my character, but I forgave her. She agreed to lt me be on her show, and then we became really good friends!

Potterfan
Friendship Level:
He's a really cool user and we both really like "The Sims". That's one of my favorite games right next to "MySims". Oddly Potter looks like our old pal Nueral, whick kinda creeps me out. Maybe they're twin brothers and we don't know about it.

Googleybear
Friendship Level:
Googleybear has a really weird username, but is super cool. He could make some really awesome stuff with "Photo Shop". I asked him if he had a dead body in his bag, but he said no. (I don't believe him.)

Hipchick
Friendship Level:
Hipchick has been inactive on the wiki for a long time, but now she's back! We still talked to each other on TDIFF Wiki, and I signed up for her show on there. I also signed up for her new show on TDIC Wiki. She's really great, and nice to others. Wow, I be writing short comments...
Community content is available under
CC-BY-SA
unless otherwise noted.