I like pizza. Do you? I like loads of cheese. But I hate pepperoni. You know, surprisingly, Tasty is my 4th favourite interest. Back to pizza.....OOOOH!!!!!!!!! HAVE YOU EVER TRIED THE CHOCOLATE PIZZA???????? OR THE PINK MARSHMALLOW???????? Actually, I'm referring to Club Penguin. And-- STOP LOOKING AT ME AND LOOK AT THE PAGE!!!!!!!!!!!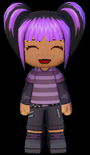 Iona123's Status
What's new
Doughnuts
Updated Friday, July 13 2012
I'm off on my Summer Holidays. I finished school at 12:30pm on Wednesday.
Oh, hey, it's Friday the 13th.

What I'm doing
Mood:
Currently thinking about: I forgot it was Friday the 13th.
Current obsessions: This wiki. (What a computer whiz I can be sometimes. Yes, that's a trait on The Sims 3)
Listening to: That weird noise computers make.....
Reading: What I just typed
Watching: This computer screen
Playing: Nothin' much.
Eating: Nothin' much. I'm starving.
Drinking: Nothin' much.
Hoping for: FOOD.
In the mood for: Relaxation. NOW.
My thing
*My thing. If you want to, look at it.
Most people would say: "About me", but this section has nothin' ta do with anything about me
Hi, I'm Iona123 but you can call me Iona, Iona Un Deux Trois (If you can be bothered to type that) or anything else you want really.
I just realized this page is totally out of date.
Anyway, I'm a girl of many.....talents.
I don't know a lot, but I know loads about MySims. I like to use my computer a lot, and I am very active here. Huzzah.
I am one of the very few people who still play MySims, and my favourite is SkyHeroes.
Other stuff I don't think you'd care about
I also make MySims Agents icons in case you want one. (But I don't think you would)
My Top 13 Favourite Sims (Don't ask. I only got to 13.)
13. Tim - Who doesn't love blue haired guys with a dog hat?
(How fitting that smiley is.)

12. Dragomir - Don't ask.

11. Raphael - He has blue hair! He likes puppies! (Blue's my favourite colour. I like puppies) Even though he's only 11th, he still for some reason is my favourite Chaos Pirate.....

10. Olivia - She's cool. I like her hairstyle. That's cool.

9. It's kinda embarrassing that I forgot who my 9th favourite Sim is..... - Oh well, maybe I'll remember soon.

8. Selena - I think she has a funny face She's a really nice character. And, I gave her a really lousy description, and she didn't slap me because she hates violence!


7. Svetlana - Again, don't ask. Although she's an evil weirdo person, she's likeable.

6. Brandi - My Sim MAY have copied her appearance slightly. Anyway, I like Spooky, she likes Spooky.

*slapped by Brandi* Okay, that hurt.


5. Buddy - Who doesn't like Buddy? No, seriously, everyone I've met likes Buddy.
It's kinda weird. But, once when I went skiing, I fell over like Buddy 15 times because my skis slid backwards when I was upright, so it looked like I fell over. It's called a faceplant, look it up.

4. Wendalyn - I'm a wonder witch. Did you know that? I like the color of Wendalyn's hair. I seem to like all the Sims with outrageous hair colours.....

3. Ginny - She's imaginative, creative, psycho, and blah blah blah. Point is, she's cool, and I'm proud to give her 3rd place.


2. Violet - Whenever I write her name, I always almost write "Violin". It's really annoying. But, anyway, she has one of the coolest hairstyles ever, I want it!

Also, everyone always seems to like Violin Violet as well. So....yah.

1. DJ CANDY!!!!! - An awesome character who loves music, like me. Like Violin, Violet, she has one of the coolest hairstyles ever.

Look out for Candy, I won't let her slip below the charts.

MySims stuff which you MIGHT care about
Interests
Likes:
* Fun
* Spooky
Hates:
* Cute
Iona123's Awesome Userboxes!

Iona123 is also DJ Candy's biggest fan EVER!!!!!!!!!
My word bubblez:
☆ Iona

– You will never know..... ☆




TALK

 

– I am.....different.....

'Sup? This is my normal word bubble
SpongeBob SquarePants

– I'm ready!!!!!!!!!




TALK

 

– IT'S THE BEST DAY EVER!!!!!!!!!!!!!!!!!

I *happen* to be a fan of SpongeBob.....Yes, I still watch it....occasionally.....
10иД

– Eh, you'll get used to it.




TALK

 

– I am right behind you.

10иД ZДуZ T0 у0ц: "Dunno what I made this for, I just think it looks cool."
Raphael

– It's been 3 years since my father disappeared without a trace......




TALK

 

– If I get a hold of that bracelet....Maybe I can find my father......

Phantom R says: "MY RHYTHM THIEF & THE EMPEROR'S TREASURE-THEMED WORD BUBBLE!!!!!!!!!!! "
Tagz
Hello wikian. (Or whatever you are) Here are my tags:
Tagged by Gold710 (14/3/12) I don't like telling people about myself, which means I'm not going to. (That's the fact
)
My Moodz
PLEASE NOTE: The default was made by Potterfan and Googleybear, whilst actual moods were made by me on Paint.
My Buddiez
Finally managed to get this done. If you're not here, then I suggest you get talkin' to meh!!!!!!!

If you know I'm supposed to add you here, don't be offended, I'm just lazy. I have to add the following users:
Zain
Gold
Jack
Matt
Sugar
Iona's WORST NIGHTMARE "Friends"

Pinky with that Darn
Friendship Level:
She's hilarious. She wants to sue a pony. Yay for her. *slapped* She also helped me with some editing program.

Limmy Da Limited
Friendship Level:
She's awesome. (Boy, I have gotta find new ways to start these things......) We both like anime. I like sock puppets. Huzzah.

Prince of ....Princeness?????
Friendship Level:
Where do I start? Well, he welcomed meh to the wiki. He's random. Lotsa stuff in common already. He's a great friend. WHO DOESN'T LOVE A GOOD FRIEND, EH CHAP????

Sierra....Or is it Sia? I'm confused.....
Friendship Level:
YOU HAVE BEEN FOOLED!!!!! I AM NOT CONFUSED!!!!!!! Wait, wut. Ok, NOW I'm confused. Uhhhhhh.....Oh wait, this has nothing to do with SierraSia, does it? Ok.....She writes good fanon. I like MySims action stories! She also made me feel happier about MY fanon.

The fan of Potter
Friendship Level:
He's very helpful. If it weren't for Pottah, I'd be in that dog basket over there. *points at dog basket in which the dog bites her finger* OW!!!!!! BAD DOGGIE!!!!!!!!!!

Uhhh....We're currently hosting the Character Battles along with Googleybear. The Character Battles rule. Seriously. Naw, naw, I'm joking, I'm not serious....

Ash
Friendship Level:
A very nice guy. He has a googley-eyed bear, apparently. Anyway, like the fan of Potter, he is very helpful.....and erm.....nice. *slapped by Ash* I am extremely bad at writing these things....

Cindy!!!
Friendship Level:
When Cindy joined back in March, she came to me for help. I helped her with some stuff, and now, she's the great wikian she is today. Now, we just say random stuff to each other!

Rhythm Thief Randy
Friendship Level:
Well, well, well. Where do I start? We're both fans of Rhythm Thief, (it's awesome) and we both like MySims. (Quite obvious)

He's also a really nice guy.

Yeah, not very good. Maybe you should leave and come back in 20 years or so......
Well would ya look at that. You actually read to the very bottom. Cool. Have some cake. THE CHOCOLATE CAKE IS MINE!!!!!!!!!!!!!!!
Community content is available under
CC-BY-SA
unless otherwise noted.