gocubs711 presents...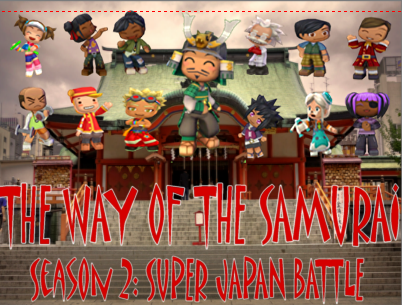 Description
Edit
Welcome to The Way of the Samurai, a contest where 12 contestants battle it out to prove the have what it takes to be a Samurai. Hosted by Samurai Bob
To see other episodes, view the Archive. Click the other link to see the talk page.
Episode Six
Edit
Brandi: Hey, Pirate Boy, Bob is merging us today. I have the perfect plan for us to succeed

Pablo: What is it?
Brandi: You seem to get along with that other group. I want you to talk them into voting with you, so we can get rid of the competition!
Pablo: But..they ARE the competition
Brandi:

(camera flashes to stage)
Bob: Welcome, one and all to The Way of the Samurai! In the last episode, contestants had to expertly pour tea for my dear mother. In the end, Dr F cost his team the victory, and was sent home. Anyways, I have an announcement to make for our contestants: We are now in Merge Week. You are no longer on teams. For our first individual challenge, we will be testing your swiftness and aim with a game of paintball.
Zak: Sweet!
Bob: Whoever has the most number of hits, as judged by your color of paint on the other's, will be victorious in this challenge. The victor gets immunity and will not be able to be voted out at tonight's ceremony.
Nova: This doesn't seem very safe.
Bob: Don't worry, Nova. We have insurance.
(camera flashes to a paintball arena with a Japanese garden theme. The contestants are spread out, each with a different color. Zak has Red, Sapphire with Dark Blue, Rhonda with Green, Roger with Yellow, Brandi with Purple, Pablo with Brown, Nova with light Blue, and Luis with Orange)
Bob: The challenge will be over in five minutes. On your marks, get set, go!
Zak: *fires three successful paintballs at Roger, all three hitting on his chest* Score!
Nova: (cowers in a corner, scared to fight)
Rhonda: (fires a paintball at Pablo, who dodges it) Darn it...
Pablo: (starts to back up, many colored paintballs flying over his head. He backs up into Zak, who is also walking backwards) Gah!
Zak: Ha, got you right where I want you.
Pablo: No, wait, Zak, I want to talk to you about something
Zak: Shoot (as he says it, he fires a Paintball at Rhonda, hitting her in the leg) And don't make it look like we're discussing
Pablo: I was wondering if you'd be interested in an alliance with me.
Zak: Hm. You seem like a good guy.
Pablo: Thanks, Zak (fires a paintball at Roger, missing Drat...
Zak: Just tell me what you're thinking tonight and I'll help ya out
Nova: (Still in the corner) This game is madness...
Brandi: (appears behind a rock) You're mine, old lady!

(she fires a paintball at Nova. The camera suddenly goes into slow motion, as the paintball flies towards Nova. It collides on her shoulder)
Nova:

You...shot me...
Brandi: What are you gonna do, huh? *gets knocked over by a dozen paintballls*
Nova:

I WILL DESTROY YOU ALL! (Nova begins running around the map, shooting everyone and dodging their paintballs expertly. Eventually, the only one not covered in Nova's Light Blue paint is Zak. He starts to run, but Nova appears right around the corner from him and douses him) IN YO' FACE
Bob: And, that is time! (he looks at the arena, covered in Nova's paint) Oh..my.
Well, it looks like Nova is our victor here. I will see you all at the ceremony tonight, where one of the other seven will be voted home.
(camera flashes to confessionals)
Brandi: I figured the easiest guy to get off would be Luis, since he doesn't really have anyone he's alligned with. He's also been voting for me almost every week. And thanks to Pablo getting Zak, Sapphire'll follow him too

Zak: Not really sure why Pablo wants Luis gone, but whatevs. I don't really know the guy much anyways.
Nova: THAT WAS SO INTENSE! I've never FELT so alive!

Luis: Brandi needs to go before she gets too much power in this game
(camera flashes back to the stage)
Bob: Today's armor piece will be the left boot. Nova, since you won the challenge, you get your armor piece. So do Roger, Zak, Rhonda, Sapphie, aaand Pablo. The final armor piece goes to.
Brandi:

Luis:
Bob:...Brandi
Luis: Drat. Well, thanks for having me. And guys...Brandi's trouble, i'm telling ya. Vote her out before it's too late! (goes through the gate)
Bob: Well, thanks for watching, and join us next time for another thrilling episode of The Way of the Samurai!
Place
Name
Ep 1
Ep 2
Ep 3
Ep 4
Ep 5
Ep 6
Ep 7

TBA

Brandi
IN
LOW
WIN
WIN
LOW
LOW
TBA
TBA
Nova
IN
IN
WIN
WIN
IN
WIN
TBA
TBA
Pablo
IN
IN
WIN
WIN
IN
IN
TBA
TBA
Rhonda
IN
WIN
IN
IN
WIN
IN
TBA
TBA
Roger
IN
WIN
IN
IN
WIN
IN
TBA
TBA
Sapphire
IN
WIN
LOW
IN
WIN
IN
TBA
TBA
Zack
IN
WIN
IN
LOW
WIN
IN
TBA
8th
Luis
IN
IN
WIN
WIN
IN
OUT
9th
Dr. F
IN
IN
WIN
WIN
OUT
10th
Sandra
IN
WIN
IN
OUT
11th
Buddy
IN
WIN
OUT
12th
Yuki
IN
OUT
Teams Colors
     = This contestant was placed on Team Partay
     = This contestant was placed on Team Yeti
Challenge/Elimination Colors
     = This contestant was safe from elimination
     = This contestant won the challenge for their team
     = This contestant was in the bottom two on their team, but was not voted out
     = This contestant was voted out of the competition
     = This contestant was eliminated due to tampered votes
     = This contestant left due to an injury
Final Colors
     = This contestant won The Way of the Samurai
     = This contestant was Runner-Up on The Way of the Samurai
Community content is available under
CC-BY-SA
unless otherwise noted.