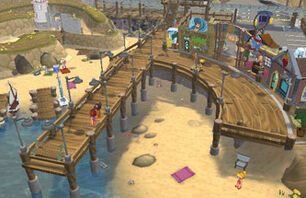 The Boardwalk is a very popular area in the City. The usuals include; Taylor and Clara Belle, two swimmers, and Luke, a surfer, who also owns a surf shop. There are several businesses throughout the boardwalk, such as a sushi bar, a tattoo parlour, and various shops. One of your first tasks is finding who broke Luke's surfboards, it is figured that Yuki, a devious MorcuCorp employee, and her mini-sub within secret submarine docs hidden away in a cave, had much to do with the mysterious going-ons. You discover much involving the Crown of Nightmares, along with a sunken ship and an underwater cave offshore holding a map to the location of the mysterious crown.
Residents and Visitors
Edit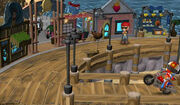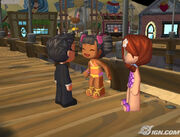 Chaz McFreely, extreme stuntman.
Chef Hisao Watanabe, sushi stand owner.
Clara Belle, swimmer.
Dr. F, scientist conducting research.
Goth Boy, Turkey on a Fork employee and goth poet.
Justice, temporary tattoo artist.
Luke, surf shop owner and surfer.
Summer, lifeguard.
T.O.B.O.R., robot assistant.
Taylor, swimmer and Chaz's fan.
Tim, Chaz's fan and pit crew.
The Boardwalk
Surf Shop
Tattoo Parlour
Secret Sub Dock
Sunken Ship
Businesses
Edit
Community content is available under
CC-BY-SA
unless otherwise noted.