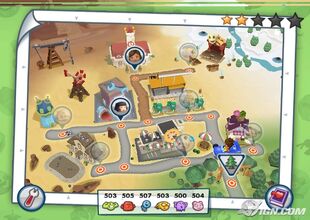 Speedville is a racing town founded by Sir Charles. The central part of town is located in between the Snowy Mountain, the Stunt Land Theme Park, and the Greenwood Forest suburbs. Sims from all over, such as Rosalyn and Maria, come to race and live in Speedville. When Sir Charles disappeared, the town went into despair, and the numerous race tracks fell into disrepair. Soon enough, people left town and those who remained hoped for a new star racer. When the town picks up in activity again, new people move in such as Samurai Bob and Chef Gino, who open businesses. Others include Ol' Gabby at the racing school, Rosalyn at the town hall, Poppy at her flower shop, and Makoto & Tobor at the garage. As you complete more and more tasks, businesses grow larger, and more folks move to town as well as other suburbs open such as those in the forest, mountains and canyon.
Central Speedville
Edit
Residents
Edit
Racetracks
Edit
MorcuCorp's Involement
Edit
Morcubus, head of MorcuCorp, has a plot to turn the town into a landfill. He had made a pact with Sir Charles that whoever won the racing championship would be the rightful owner of the town. However during Sir Charles routine hot air balloon ride, he dissapeared and Morcubus claimed ownership of Speedville. But luckily Gabriel intervened and made sure the town, though now abandoned, stayed out of Morcubus's grasp. Since then, Morcubus and his employees have been trying to defeat the rising star racer who has been drawing people back to the town.