Jurassic World: Dominion Dominates Fandom Wikis - The Loop
Play Sound
The Sims, also known as the MySims, is the official name for all the human characters in the MySims series. Sims are relatively friendly, and all unique in their own way, and they love many different things. For example, Violet Nightshade likes Spooky things, while her younger sister, Poppy Nightshade, loves Cute things. Most of them are bizarre, with humorous flaws and obsessions, like Dr. F the mad scientist, Rosalyn P. Marshall, who is obsessed with paperwork, Luis, the boy who's fanatic with getting a good college application, and King Roland, the kind and wise king, who loves cupcakes. They speak a "nonsense language" called Simlish.
Sim customization
[
]
MySims

[

]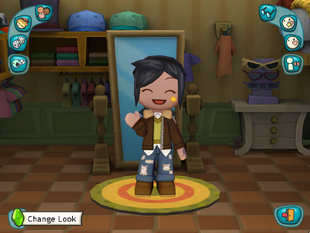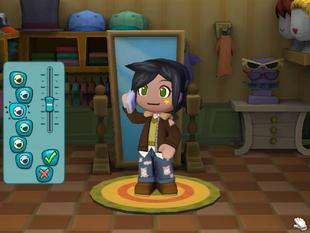 Sims can be customized in many ways. There are three skintones

; white, tan, and black. There are different eye shapes, but you can't choose the color for each shape. There are also different mouth types, including smiles, frowns, moustaches, etc. Most hairstyles have the four default colors

; black, blond, brown, and red. However, some hairstyles have an additional special color like the simple pony tail, which has a pink color. Some hairstyles also have headgear attached. You can also change your Sim's voice

, with up to six voice types. Interestingly, each voice's icon is colored similarly to the six main interests; Geeky

, Studious

, Tasty

, Cute

, Spooky

, and Fun

.
There are many different outfits, but you cannot choose individual tops and bottoms; you must choose from full outfits. You can also add up to two decals

to your Sim's face (such as a star or whiskers), and glasses.
If you're too lazy to create your own Sim, or just bored, you can click the button with a die

on it to let the game select a random look for you.
Aside from yourself, you can customize the residents of your town, using a Changing Booth or a Costume Chest. You aren't able to change the Sim's name or voice, but you can change their appearance completely, and make them look entirely different than they looked before. You are not able to dress the NPCs with the clothes available from the Mirror, since the Mirror does not have an option to let you change your friend's appearances. You can only dress up like them if they are commercial through the dresser.
Changing an appearance involves clicking on the part you want to change. For example, if you want to change your Sim's eyes, you click the eyes, and the next option appears. You would just keep clicking the eyes, until you find the pair that appeals to you the most.
MySims (PC)

[

]
Almost nothing has changed from the original MySims; some outfits and hairstyles that are similar to style of MySims Kingdom, and some outfits never seen before.
MySims Kingdom

[

]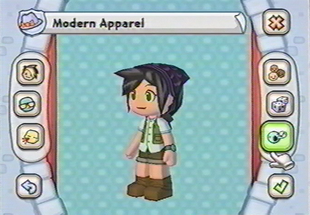 The way you change your Sim's appearance in Create-A-Sim is pretty much the same as in MySims. There are still only full outfits, and one color for each eye shape. Unlike the last game, you can select your gender, although it does not alter the game much other than having different selections of clothes, and the other characters in the game actually referring to you, according to your gender ("she" and "he").
There is one new voice type for each gender. The original voices all return in the game. Unfortunately, you can only select one face tattoo on your face, unlike the last game. There are few returning outfits from the previous game, and many new ones themed to Kingdom.
When you become best friends with a Sim, you may receive their outfit and hair. There are a few special skin tones in the game, although the player cannot use them. There is an elf skin (used by Leaf and Petal), zombie skin (Zombie Carl), and an extremely pale skin (Goth Boy). In addition to special skin tones, there are some special hair colors. Some sims, such as Lyndsay and Zack, have what appears to be a "bleach-blonde" hair color, a slightly lighter blonde than the average blonde color. Even after recieving their outfits, you cannot unlock this "bleach-blonde" color.
MySims Party

[

]
All of the outfits from MySims, and a few outfits from MySims Kingdom, return in Create-A-Sim of MySims Party. Sims are able to choose stats to prepare themselves for minigames throughout the game. They are Power, Speed, Stamina, and Luck. A few of the Commercial Sims' outfits have new colors (such as Buddy's new blue bellhop outfit). These new colored outfits are used when there is a festival/minigame, and one of the competitors is the same Sim, wearing the same outfit as the host. The host will have the alternate colored outfit.
MySims Racing

[

]
For the main article, see Garage#Create-A-Sim.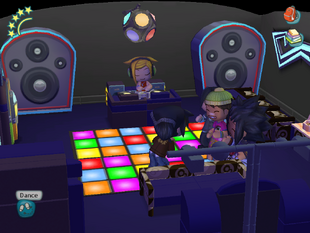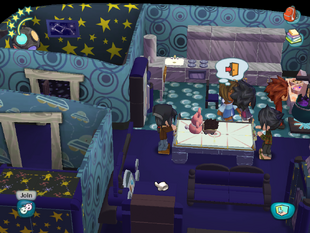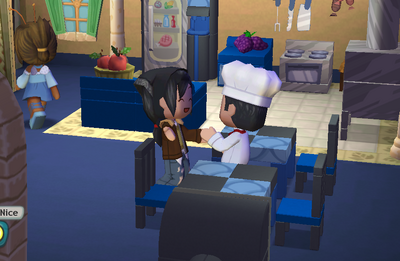 As mentioned before, Sims like many different things. In MySims, these things that these Sims like are represented by their Interests. Sims will love one Interest, like another, but absolutely hate one Interest. Most of the time, Sims who hate an interest won't interact with a Sim who loves it, or go to their house. However, every now and then they will (ex. Poppy going in Violet's house and vice versa.). In MySims Kingdom, Interests don't play a significant role, or are as important as they were in MySims, but they still slightly represent the Sim.
The Player
[
]
Main article: You
The player (you) is a Sim who loves helping out other Sims. What you do will make a difference. You decide which Sims to befriend, and which Sims you just don't like. The player can also talk to the other Sims to learn more about their character, give them gifts, and interact with them, by either being nice, or mean.
If you dislike a Sim, there are several ways to make them suffer. In MySims, you can take the furniture they like, be mean when interacting with them, or just kick them out of your town if they are bothering you.
If the player befriends Sims, Sims will notice their friendliness. If they feel the player is being nice enough, they will feel like returning the favor, and they are bound to reward them with an outfit, or a blueprint.
Becoming friends with a Sim
[
]
Main article: Relationships
The player can befriend whoever they want. In MySims, you can become friends with a Sim by giving them furniture they like in their houses, and by being nice to them. They will reward you a gift; honoring you if you become their best friend. In MySims Kingdom, you can become a Sim's best friend by doing tasks for them, like building them a house, or improving an existing structure. Once you have finished all their tasks, they will most likely reward you with an outfit.
Sims
[
]
Below is a list of characters in MySims, and a brief summary of who they are, or what role they have. The Sims are listed under the game they first appeared in.
MySims (Wii)

[

]
MySims (PC)

[

]
MySims (DS)

[

]
MySims (mobile)

[

]
Barbra, an old seamstress living in the forest.
Sarah, a girl who rarely leaves home, because of her cows.
MySims Kingdom (Wii)

[

]
MySims Kingdom (DS)

[

]
MySims Party

[

]
MC Emi, a girl who helps hosts festivals. She seems enthusiastic most of the time, and is disappointed whenever you say you don't want to enter a festival.
MySims Racing

[

]
MySims Agents

[

]
MySims Agents (DS)

[

]
MySims SkyHeroes

[

]
Scrapped Sims
[
]
The following are Sims that never made their debut in the MySims series, and were scrapped or added to a later game in the series.
MySims

[

]
MySims Kingdom

[

]
Mira Cull, would have lived on a Pirate themed Island named Shipwreck Cove. Later appeared in MySims SkyHeroes.
Theodore, would have lived on a Pirate themed Island named Shipwreck Cove.
Vice Admiral Morgan, would have lived on a Pirate themed Island named Shipwreck Cove.
Neema, would have lived on a Pirate themed Island named Shipwreck Cove.
MySims Agents

[

]
Faith Connors, a cameo Sim, from Mirror's Edge. Was planned to appear in MySims Agents, but was cut for unknown reasons. Later set to appear in MySims SkyHeroes, but was cut again.
Madison Gray, planned to be the twin sister of Evelyn Gray, but was cut.
MySims SkyHeroes

[

]
Natasha Volkova, a cameo Sim, from Command and Conquer. Was planned to appear in MySims SkyHeroes, but was cut for unknown reasons.