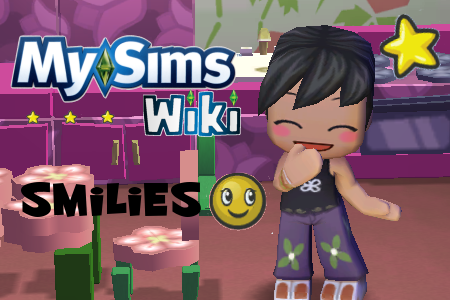 Welcome to the MySims Wiki Smilies! Here is a list of smilies you can use to express feelings or emotions that you have while communicating with other MySims Wikians, whether it be by blog comment or talk page! Just type in the specified code to add the smiley into your message! If you have your own smiley to add, feel free to add it in to the list for MySims Wikians to use, but make sure its appropriate and family friendly with the community. It'd be even greater if your smiley was MySims-related (but it's not required)!
All smileys were found on Onion Club, deviantART, Tumblr, and Reddit. All rights go to these websites.
Keep checking back for more great smilies! We'll keep adding them as they come!
deviantART has some adult content, viewer discretion is advised.
Smilies
| Smiley | Code |
| --- | --- |
| | {{freakycat}} |
| | {{awesome}} |
| | {{serious}} |
| | {{durrhurr}} |
| | {{angry}} |
| | {{fweeheehee}} |
| | {{rawr}} |
| | {{ohnoes}} |
| | {{ohnose}} |
| | {{tooawesome}} |
| | {{notawesome}} |
| | {{no}} |
| | {{doomed}} |
| | {{rage}} |
| | {{hmph}} |
| | {{urk}} |
| | {{goofygrin}} |
| | {{wah}} |
| | {{shame}} |
| | {{gwah}} |
| | {{yah}} |
| | {{hardcore}} |
| | {{idiotthinking}} |
| | {{userious}} |
| | {{isay}} |
| | {{joy}} |
| | {{really}} |
| | {{iloveyou}} |
| | {{aaah}} |
| | {{dancingcat}} |
| | {{seriouschu}} |
| | {{wut}} |
| | {{angrymonkey}} |
| | {{shockedcat}} |
| | {{yay}} |
| | {{dang}} |
| | {{orly}} |
| | {{ohflip}} |
| | {{heheheh}} |
| | {{mojo}} |
| | {{evil}} |
| | {{ohmy}} |
| | {{umyeah}} |
| | {{fufu}} |
| | {{giggle}} |
| | {{leafman}} |
| | {{derekstun}} |
| | {{yesyes}} |
| | {{eyetwitch}} |
| | {{umno}} |
| | {{evilstare}} |
| | {{nerdyface}} |
| | {{roar}} |
| | {{gross}} |
| | {{omigosh}} |
| | {{plz}} |
| | {{omg}} |
| | {{whaaat}} |
| | {{umwhat}} |
| | {{crosseyed}} |
| | {{darn}} |
| | {{nekomonkey}} |
| | {{cutejoy}} |
| | {{iwilleatyou}} |
| | {{moo}} |
| | {{monster}} |
| | {{wooo}} |
| | {{devilishthought}} |
| | {{whattheflip}} |
| | {{frustrated}} |
| | {{excited}} |
| | {{mutantmango}} |
| | {{skip}} |
| | {{SPARTA}} |
| | {{shoopdawoop}} |
| | {{angryfaic}} |
| | {{insane}} |
| | {{scared}} |
| | {{whattheheck}} |
| | {{teehee}} |
| | {{speechless}} |
| | {{creepedout}} |
| | {{evilgrin}} |
| | {{sushi}} |
| | {{cool}} |
| | {{love}} |
| | {{ilost}} |
| | {{ohdear}} |
| | {{hurrhurr}} |
| | {{sweat}} |
| | {{ilikeit}} |
| | {{oooh}} |
| | {{misery}} |
| | {{stare}} |
| | {{funkymonkey}} |
| | {{eww}} |
| | {{yummy}} |
| | {{innocent}} |
| | {{facepalm}} |
| | {{doublefacepalm}} |
| | {{quadruplefacepalm}} |
| | {{awww}} |
| | {{isee}} |
| | {{finally}} |
| | {{blush}} |
| | {{awkward}} |
| | {{headache}} |
| | {{shrug}} |
| | {{boredom}} |
| | {{muahaha}} |
| | {{tantrum}} |
| | {{insulted}} |
| | {{petrified}} |
| | {{lie}} |
| | {{greatjob}} |
| | {{smartypants}} |
| | {{nosepick}} |
| | {{dizzy}} |
| | {{herotime}} |
| | {{handsome}} |
| | {{panic}} |
| | {{pika}} |
| | {{punch}} |
| | {{excitedblush}} |
| | {{enthusiastic}} |
| | {{tongueout}} |
| | {{afraid}} |
| | {{pikaslap}} |
| | {{taunt}} |
| | {{thriller}} |
| | {{baffled}} |
| | {{lolsign}} |
| | {{happy}} |
| | {{cry}} |
| | {{ohgosh}} |
| | {{lazycow}} |
| | {{cutemonkey}} |
| | {{waaah}} |
| | {{plzforgiveme}} |
| | {{yum}} |
| | {{ihavepower}} |
| | {{darnit}} |
| | {{okaaay}} |
| | {{beaten}} |
| | {{itsamiracle}} |
| | {{hypnotize}} |
| | {{tired}} |
| | {{whine}} |
| | {{rejected}} |
| | {{awesomejob}} |
| | {{redcard}} |
| | {{wind}} |
| | {{comeback}} |
| | {{knife}} |
| | {{scheming}} |
| | {{blahblahblah}} |
| | {{awkwardsilence}} |
| | {{hmm}} |
| | {{devious}} |
| | {{iluvit}} |
| | {{clap}} |
| | {{silent}} |
| | {{cuteawesome}} |
| | {{smoldering}} |
| | {{deadserious}} |
| | {{rampage}} |
| | {{sneaky}} |
| | {{workhard}} |
| | {{pain}} |
| | {{stress}} |
| | {{hole}} |
| | {{cheer}} |
| | {{trianglemouth}} |
| | {{fierce}} |
| | {{idea}} |
| | {{Crazy}} |
| | {{spinningfox}} |
| | {{hottub}} |
| | {{freaked}} |
| | {{omgwut}} |
| | {{coughcough}} |
| | {{monkeyrage}} |
| | {{dancingbanana}} |
| | {{daaa}} |
| | {{ranranru}} |
| | {{shiftyeyes}} |
| | {{bringit}} |
| | {{luv}} |
| | {{happybirthday}} |
| | {{yellowcard}} |
| | {{bye}} |
| | {{burst}} |
| | {{bandage}} |
| | {{hi}} |
| | {{flirt}} |
| | {{soccer}} |
| | {{moon}} |
| | {{freeze}} |
| | {{vomit}} |
| | {{whistling}} |
| | {{nu}} |
| | {{yaha}} |
| | {{pwease}} |
| | {{omfg}} |
| | {{joyous}} |
| | {{hmmm}} |
| | {{whyme}} |
| | {{maho}} |
| | {{meikoishappy}} |
| | {{kaitoishappy}} |
| | {{mikuishappy}} |
| | {{rinishappy}} |
| | {{lenishappy}} |
| | {{hakuishappy}} |
| | {{tetoishappy}} |
| | {{neruisunhappy}} |
| | {{gakupoishappy}} |
| | {{lukaishappy}} |
| | {{gumiishappy}} |
| | {{mikiishappy}} |
| | {{evilthinking}} |
| | {{shy}} |
| | {{guilty}} |
| | {{sleepy}} |
| | {{sohot}} |
| | {{cough}} |
| | {{romantic}} |
| | {{imill}} |
| | {{omgaghost}} |
| | {{embarrassed}} |
| | {{loony}} |
| | {{victory}} |
| | {{teatime}} |
| | {{grrr}} |
| | {{cirnoisbaka}} |
| | {{flandreisgoingtokillyou}} |
| | {{reimuishappy}} |
| | {{marisaishappy}} |
| | {{remiliaishappy}} |
| | {{sakuyaishappy}} |
| | {{meilingishappy}} |
| | {{patchouliishappy}} |
| | {{tenshiishappy}} |
| | {{aliceishappy}} |
| | {{sikieikiisangry}} |
| | {{lilyblackishappy}} |
| | {{ayaishappy}} |
| | {{sunnyishappy}} |
| | {{yukariishappy}} |
| | {{lyricaishappy}} |
| | {{woohoo}} |
| | {{flabbergasted}} |
| | {{ah}} |
| | {{angel}} |
| | {{awake}} |
| | {{cold}} |
| | {{consume}} |
| | {{crud}} |
| | {{drunk}} |
| | {{eek}} |
| | {{flip}} |
| | {{gah}} |
| | {{guard}} |
| | {{hey}} |
| | {{lala}} |
| | {{imdead}} |
| | {{monk}} |
| | {{notagain}} |
| | {{shout}} |
| | {{spit}} |
| | {{thank}} |
| | {{graduate}} |
| | {{uh}} |
| | {{XD}} |
| | {{humming}} |
| | {{sodatemper}} |
| | {{whattheflack}} |
| | {{motorbikegoesby}} |
| | {{ragefullmonkey}} |
| | {{marchingmonkey}} |
| | {{monkeylove}} |
| | {{excitedlayton}} |
| | {{excitedluke}} |
| | {{excitedclive}} |
| | {{excitedflora}} |
| | {{excitedanton}} |
| | {{excitedsammy}} |
| | {{oopsie}} |
| | {{sarcasticclap}} |
| | {{kick}} |
| | {{sofunny}} |
| | {{beatemup}} |
| | {{whipit}} |
| | {{unwhipit}} |
| | {{matryoshka}} |
| | {{eyesome}} |
| | {{wave}} |
| | {{restless}} |
| | {{ohyou}} |
| | {{omigoshwut}} |
| | {{trollface}} |
| | {{emoawesome}} |
| | {{y-u-no}} |
| | {{cryforever}} |
| | {{domodance}} |
| | {{shionlaugh}} |
| | {{kiralaugh}} |
| | {{pokerface}} |
| | {{brittrutteriscreepy}} |
| | {{nyankitty}} |
| | {{ugh}} |
| | {{imagination}} |
| | {{megusta}} |
| | {{hahagotyou}} |
| | {{excitedmime}} |
| | {{excitedrussell}} |
| | {{excitedpop}} |
| | {{excitedpetunia}} |
| | {{excitednutty}} |
| | {{exciteddiscobear}} |
| | {{excitedflippy}} |
| | {{talktohand}} |
| | {{bighug}} |
| | {{umright}} |
| | {{whatsthat}} |
| | {{raywhatever}} |
| | {{greenanime}} |
| | {{redanime}} |
| | {{konataface}} |
| | {{weirdface}} |
| | {{Fool}} |
| | {{Fail}} |
| | {{chest}} |
| | {{yesisee}} |
| | {{baby}} |
| | {{raspberry}} |
| | {{cannoteven}} |
| | {{Amgplz}} |
| | {{Kikuplz}} |
| | {{Tinoplz}} |
| | {{Ukraineplz}} |
| | {{Hungaryplz}} |
| | {{Alaskaplz}} |
| | {{030}} |
| | {{Sob}} |
| | {{Coolguyshades}} |
| | {{Sharkwhat}} |
| | {{Desu}} |
| | {{Umm}} |
| | {{Excalibur}} |
| | {{Fyeah}} |
| | {{Getaway}} |
| | {{Isawit}} |
| | {{Imcry}} |
| | {{Noo}} |
| | {{Whythis}} |
| | {{Yukkoevil}} |
| | {{Yukkohappy}} |
| | {{Yukkosob}} |
| | {{Yukkoscared}} |
| | {{Yukkoshocked}} |
| | {{Yukkocry}} |
| | {{Ahh}} |
| | {{Blushsmile}} |
| | {{Bored}} |
| | {{O3o}} |
| | {{silly}} |
| | {{Allthethings}} |
| | {{diabolical}} |
| | {{prettyplease}} |
| | {{holycow}} |
| | {{eviler}} |
| | {{Sha}} |
| | {{;A;}} |
| | {{Puppyface}} |
| | {{OwO}} |
| | {{Okaywhat}} |
| | {{Largegrin}} |
| | {{flawless}} |
| | {{Urajerk}} |
| | {{Watwat}} |
| | {{Whywouldyou}} |
| | {{Youcard}} |
| | {{Youdidwhat}} |
| | {{Ashmad}} |
| | {{Nopenope}} |
| | {{Dothisthing}} |
| | {{Heythere}} |
| | {{Ahuhuh}} |
| | {{Ravegwah}} |
| | {{Okaywhy}} |
| | {{Wtfusay}} |
| | {{Braginskiplz}} |
| | {{Sothere}} |
| | {{Zzz}} |
| | {{Fearme}} |
| | {{imdark}} |
| | {{Mioconfused}} |
| | {{Kyutsmile}} |
| | {{Hitoshisan}} |
| | {{Konekochan}} |
| | {{Cutepout}} |
| | {{Cheshiregrell}} |
| | {{Chronacreepy}} |
| | {{Evilrin}} |
| | {{Fanggrin}} |
| | {{Yandere}} |
| | {{Creepyrin}} |
| | {{Patrickshock}} |
| | {{Music}} |
| | {{Comeatmebruh}} |
| | {{Yuihug}} |
| | {{Yuicry}} |
| | {{Sonicvictory}} |
| | {{Rainbowcake}} |
| | {{Pokemonwhat}} |
| | {{Squintstare}} |
| | {{SadRD}} |
| | {{Applebloomsad}} |
| | {{Angrypinkie}} |
| | {{0u0}} |
| | {{Mistymad}} |
| | {{Suprisedblush}} |
| | {{Kawaiipocky}} |
| | {{Pinkangelbunny}} |
| | {{Lucymad}} |
| | {{Kawaiiwaffle}} |
| | {{Kawaiicookie}} |
| | {{Hakaseshy}} |
| | {{Hakaseblush}} |
| | {{Goldenplattercake}} |
| | {{Kawaiifries}} |
| | {{ack}} |
| | {{Advice}} |
| | {{Denyblush}} |
| | {{kawaiiburger}} |
| | {{Bunnyglomp}} |
| | {{Aloislelele}} |
| | {{Akira}} |
| | {{Akioshocked}} |
| | {{AJliar}} |
| | {{Abellmad}} |
| | {{AJDizzy}} |
| | {{Asukamad}} |
| | {{Azuawesome}} |
| | {{Azusashocked}} |
| | {{Ashlove}} |
| | {{RDawesome}} |
| | {{Madokascared}} |
| | {{Ajnervous}} |
| | {{Ajthinking}} |
| | {{Cutelaugh}} |
| | {{Cuterawr}} |
| | {{Americanope}} |
| | {{Bakacirno}} |
| | {{Kawaiibanana}} |
| | {{Bubbleannoyed}} |
| | {{Bubbleblush}} |
| | {{Bubbledizzy}} |
| | {{Bubbleevil}} |
| | {{Bubbledead}} |
| | {{Bubbledaze}} |
| | {{Bubblecute}} |
| | {{Bubblesad}} |
| | {{Bubbleplotting}} |
| | {{Bubbleheh}} |
| | {{Bubblehuh}} |
| | {{Bubblekiss}} |
| | {{Bubbleohmy}} |
| | {{PBgrowl}} |
| | {{Bunnyham}} |
| | {{Yuiupset}} |
| | {{Yuiheaven}} |
| | {{Yuihuh}} |
| | {{Yuimunch}} |
| | {{Yuino}} |
| | {{Yuiscared}} |
| | {{Yuiwah}} |
| | {{Americacry}} |
| | {{Monkeywaa}} |
| | {{Dansen}} |
| | {{Thumbsup}} |
| | {{Rinamusic}} |
| | {{Rinawoah}} |
| | {{Datrin}} |
| | {{Yuiadorb}} |
| | {{Yuisparkle}} |
| | {{Linkocarina}} |
| | {{Maiconfused}} |
| | {{AJdurr}} |
| | {{AJblush}} |
| | {{AJapples}} |
| | {{Annoyedrarity}} |
| | {{Angrymay}} |
| | {{Angryerza}} |
| | {{Amino}} |
| | {{Bombescape}} |
| | {{Bunnycandy}} |
| | {{BDaycake}} |
| | {{Cheeselove}} |
| | {{Chowderpls}} |
| | {{Question}} |
| | {{Puppy}} |
| | {{Crazyalice}} |
| | {{Crazymiku}} |
| | {{Heartroll}} |
| | {{Rainbow}} |
| | {{Doaninternet}} |
| | {{Hiiragisob}} |
| | {{Cutemisty}} |
| | {{notthis}} |
| | {{Ohmygah}} |
| | {{Rinagrin}} |
| | {{Rinapfft}} |
| | {{Rinatroll}} |
| | {{Crydesu}} |
| | {{TwilightCry}} |
| | {{Kawaiiicetea}} |
| | {{America5ever}} |
| | {{Dizzyhinata}} |
| | {{Cutespike}} |
| | {{Angrymello}} |
| | {{Apollomad}} |
| | {{AJwhat}} |
| | {{CoolRD}} |
| | {{Bleeh}} |
| | {{Belhappycry}} |
| | {{RDwhatever}} |
| | {{Cutelen}} |
| | {{Cutealice}} |
| | {{Dededenope}} |
| | {{Ghirahim}} |
| | {{SadPinkie}} |
| | {{Staringman}} |
| | {{Ashwat}} |
| | {{Ariawhat}} |
| | {{Spikewait}} |
| | {{RDblush}} |
| | {{Cuteerza}} |
| | {{Crazytwilight}} |
| | {{Cookingmama}} |
| | {{Cone}} |
| | {{Belcute}} |
| | {{Cannotunsee}} |
| | {{Celestiadurr}} |
| | {{ashno}} |
| | {{Conanwhat}} |
| | {{Barrydance}} |
| | {{Awedance}} |
| | {{Ashfacepalm}} |
| | {{Etnaclever}} |
| | {{Etnawut}} |
| | {{Toohappy}} |
| | {{Edhappy}} |
| | {{Etnamad}} |
| | {{Fukawat}} |
| | {{Fluttershyblush}} |
| | {{Fluttershyno}} |
| | {{Flonnewut}} |
| | {{Etnaangry}} |
| | {{twerk}} |
| | {{Gameaddict}} |
| | {{Ghirahimdance}} |
| | {{Lazyshydance}} |
| | {{Cri}} |
| | {{Goingnuts}} |
| | {{Gumballwant}} |
| | {{Gumballlove}} |
| | {{Garyehh}} |
| | {{Ghoulia}} |
| | {{Guiltymello}} |
| | {{Wot}} |
| | {{Friendlymushroom}} |
| | {{Forkbite}} |
| | {{Foreversob}} |
| | {{Fluttershysquee}} |
| | {{Epicnuu}} |
| | {{Ehehe}} |
| | {{Creepyyui}} |
| | {{Imouto}} |
| | {{Justwhy}} |
| | {{Mioblush}} |
| | {{Draculaura}} |
| | {{Clawdeen}} |
| | {{Coachomg}} |
| | {{Eddy}} |
| | {{Flonnesad}} |
| | {{Flonneshocked}} |
| | {{Flonneserious}} |
| | {{Flonneupset}} |
| | {{Flonnehappy}} |
| | {{Etnahappy}} |
| | {{Etnashocked}} |
| | {{Etnasad}} |
| | {{Epicstare}} |
| | {{Eggsman}} |
| | {{Hiyorismile}} |
| | {{Blushing}} |
| | {{Hamtaro}} |
| | {{Headdesk}} |
| | {{Hamdance}} |
| | {{Hakaseshock}} |
| | {{Hakaserolling}} |
| | {{Hakaseconfused}} |
| | {{Hakasenyan}} |
| | {{Hakaselol}} |
| | {{Hakaselookright}} |
| | {{Hakaselookleft}} |
| | {{Hacking}} |
| | {{Holthyde}} |
| | {{Holdbreath}} |
| | {{Mikushocked}} |
| | {{Gokuomg}} |
| | {{Itsglorious}} |
| | {{Heydash}} |
| | {{Haruhistare}} |
| | {{Faint}} |
| | {{Yuiroll}} |
| | {{Honeyflowers}} |
| | {{Nosebleed}} |
| | {{Kyokokyut}} |
| | {{Kirawah}} |
| | {{Kawaiidesu}} |
| | {{Rinalaugh}} |
| | {{Slendydance}} |
| | {{Emi}} |
| | {{Hanako}} |
| | {{Hisao}} |
| | {{Kenji}} |
| | {{Lilly}} |
| | {{Misha}} |
| | {{Rin}} |
| | {{Shizune}} |
| | {{Karinsquee}} |
| | {{Kidnapperkun}} |
| | {{Krabbypatties}} |
| | {{Rinaehehe}} |
| | {{Rinablush}} |
| | {{Rinacry}} |
| | {{Hypnopie}} |
| | {{Ib}} |
| | {{Jacksonjekyll}} |
| | {{Flutterfab}} |
| | {{Karinwhat}} |
| | {{Rinaasdfgh}} |
| | {{Thankithyou}} |
| | {{Owned}}} |
| | {{spagheti}} |
| | {{Slowdown}} |
| | {{Imaginarygary}} |
| | {{ABblush}} |
| | {{gracias}} |
| | {{bagel}} |
| | {{deaspecto}} |
| | {{kirby}} |
| | {{toobad}} |
| | {{poohrage}} |