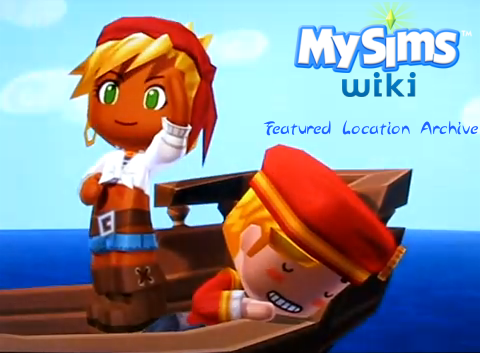 This page is an archive.
Please do not edit the contents of this page. Direct any additional comments to the current talk page.
Hey there, and welcome to the Featured Location Archive! Here, you can see the articles on the locations that have appeared on the main page of MySims Wiki as the "Featured Location"! Any place can appear on the Featured Location, so be sure to check every week to see what's the new Featured Location! Like the Featured Sims, it changes every Saturday or Sunday.
| | | |
| --- | --- | --- |
| Location | Description | Duration |
| | The Garden is a location exclusive to MySims PC. You can add whatever you want and build whatever you want in it once you reach Star Level 2 and receive access to it. You can also invite your friends online and let them see what you've created! For more on the Gardens, click here to read more! | June 2, 2009 - June 7, 2009 |
| | The Forest is a town location in MySims. It is a quiet and tranquil place with an Asian theme. It can be unlocked after reaching Star Level 2. You may find many essences only in the forest. To read more about the forest, click here. | June 7, 2009 - June 13, 2009 |
| | Renée's Nature Preserve is an island in the MySims Kingdom, which, as the name suggests, is a Nature Preserve that is cared for by a girl by the name of Renée. People can come here and meet the animals, and feed them candy and watch them. It is very lush and colorful, with many flowers and grass and many animal residents roaming about the island. To read more on this island, check out the article. | June 13, 2009 - June 20, 2009 |
| | The Royal Academy is a very studious island with a school on it. It is run by the headmistress, Rosalyn P. Marshall. It is where students throughout the kingdom may come to study. It also includes a dance site for the school dances. To read more about this island, click here. | June 20, 2009 - June 27, 2009 |
| | The Chess Cave is a cave located in the Forest, inside a huge tree near the pond. It has trees that grow chess pieces in it, with the exception of the Knight, which grows in another area of the Forest. It can only be accessed once you reach Star Level 4, since the entrance is blocked by a metal gate that you need to incinerate using a Blowtorch. If you look carefully, you can see math equations flowing around the cave in green faint letters. The main article for the Chess Cave is here. | June 27, 2009 - July 4, 2009 |
| | Spookane is an eternally dark island with a horror theme. Its residents are somewhat spooky and dark. This island is haunted by ghosts and spirits as well. Its many notable areas include a deserted castle, a swamp, and a giant gate. To read more about this island, click here. | July 4, 2009 - July 11, 2009 |
| | The Treasure Cave is a cave located deep in the Desert. 4 trees are found growing with card symbols, including Diamonds, Clubs, Spades, and Hearts. The trees have gold, sparkling leaves, and the cave blends in with the leaves, with a sparkling gold color. Butterflies fly peacefully around the cave, and you can hear natural, relaxing sounds echoing around the cave. To read more on the mystifying Treasure Cave, why not see it here? | July 11, 2009 - July 18, 2009 |
| | The Forest of the Elves is an enchanted Elven island, inhabited by Leaf the rockstar Elf, Proto-Makoto the robot, Hopper the frog boy, and Petal the wise and worldly Elf. It is enchanted with a special soil that allows for the growth of Frogberries. The Spirits of Nature also watch over the island to ensure peace, and a balance of nature. There are many tall trees, and there is always some type of pleasant music and ambience around the forest, with the exception of Leaf's Stage. Leaf's Stage is what appears to be the stump of a very huge tree, and loud rock 'n' roll music is often being played in the background. To check more on the Forest of the Elves, check it out here. | July 18, 2009 - July 25, 2009 |
| | Cutopia is an overly-cute island ruled over by the traditional Duchess Beverly. The Duchess and her son, Lord Daniel take care of it all year-round. It is known to have enjoyable annual traditions. It is home to Sir Spencer, the Duchess's loyal knight, Poppy, and her sister, Violet.Its many notable areas include, the Cutopia castle, the gate and Violet's castle, Poppy's home, and a picnic area. To read more about this island, click here. | July 25, 2009 - August 1, 2009 |
| | Rocket Reef is an island with a very scientific theme. Home to scientists, Alexa Lexington, and Dr. F, it is where many "strange" experiments are produced. It was where proud hero, Vic Vector was launched into space. It is also home to diner-owner T.O.B.O.R. There are many tubes filled with chemicals throughout the island. To read more about this island, click here. | August 1, 2009 - August 8, 2009 |
| | The Ghost Cave is located in the Desert of your town. You must first weld the door down with a blowtorch to gain entrance. The Ghost Cave is very spooky cave that is very foggy and filled with coffins. You may also see bats about your wandering into the cave. The cave has three, spooky, sole Essence Trees. Ghosts, Jack O'Lanterns, and Eyeballs are found. To read more about the Ghost Cave, click here. | August 8, 2009 - August 15, 2009 |
| | Speedville is a town known for its racing championships and citizens. It was founded by the billionaire, Sir Charles, but became quiet after he suddenly disappeared. You will come back to bring citizens back by doing tasks for citizens and competing in championships. It is also connected to three other parts, Greenwood Forest, Snowy Mountain, and the Stunt Land Theme Park. To read more on Speedville, click here. | August 15, 2009 - August 27, 2009 |
| | The Reward Island is earned once you've reached level 5 on your King Points bar. Once you've reached King Points level 5, Guillermo will fly in to deliver a message from King Roland about a special surprise waiting for you at The Capital. Once reaching The Capital, the king thanks you for restoring his kingdom and decides to reward you with the Reward Island. The Reward Island will be named after you, and a giant dance party including every resident in the kingdom will ensue on your new land, congratulating you for successfully restoring the kingdom. The Reward Island looks very similar to the Isle of Magic, with a huge square area stretching across the island, where you can put as much stuff as you want! Read more on the Reward Island here! | August 27, 2009 - September 5, 2009 |
| | The junkyard is a place in the Desert that you can unlock once you reach Star Level 4. The entrance is blocked by a metal gate, so you are required to use a Blowtorch and incinerate it to pass through into the junkyard. In the junkyard, there are broken cars all over the place, as well as one UFO that seems to have crashed. It is said that aliens must have once crashed here, as Professor Nova tells you this, and there are actual Aliens (which are now Essences) buried in the ground that you can prospect. The UFO makes some sounds, but it doesn't move at all and just seems to be a background decoration. You can also hear the loud buzzing of flies in various places. To read more about the junkyard click here. | September 5, 2009 - September 12, 2009 |
| | The Cute Prospecting Cave is a small cave hidden in the desert, inside a cliff. Inside is a place with Cute essences buried here and there, like Tina Dolls, Tim Dolls, and a couple of different colored crayons. The place always somehow maintains a cheery atmosphere, and is mostly made of pink-colored rock and stone. Butterflies can be found flying around the cave. To learn more, see here. | September 12, 2009 - October 3, 2009 |
| | The Capital, also known as Capital Island, is the capital of the kingdom and the island which you start MySims Kingdom on working as a farm hand for Elmira Clamp. It is also the home of King Roland and his daughter Princess Butter who rule over the kingdom. The island is also home to Marlon the Wizard who is the king's personal wizard; Barney Cull who works as a fisherman and is a retired harbormaster; Buddy who is a messenger for the king and finally the explorer Lyndsay. Read more about it here! | October 3, 2009 - October 10, 2009 |
| | Candypalooza is an island the player unlocks on the map when Vic Vector goes into space on the rocket built by the player near the end of Rocket Reef and records the map of it on his cellphone for the player. The island's attractions include a stage which is being set up for DJ Candy Supergroove to play on by her producers Zack and Sapphire, a nice beach, and Candy's house. The island houses many crabs and has "crab migration season", which is when the crabs come out and crawl all over the island. Read more on Candypalooza here! | October 10, 2009 - October 17, 2009 |
| | The Town Square in your town is the main center and most populous gathering area in town. Townsfolk usually like visiting and meeting each other near the fountain. This is the only place that you can move in residents until the Forest and the Desert open up at Star Level 2 and 3. The major buildings reside here, which are the Town Hall, your house and workshop, and the town hotel. Go here to learn more. | October 17, 2009 - October 24, 2009 |
| | The Geeky Junkyard Cave is a cave found in the Desert's Junkyard. It has three trees growing with Robots, Springs, and Gears. It can only be accessed once you reach Star Level 4, since the Junkyard is blocked by a metal gate and you need to incinerate it using the Blowtorch. Read more on the Junkyard Cave here. | October 24, 2009 - October 31, 2009 |
| | The Uncharted Isle is an island trapped in the prehistoric times. Despite the island being called the "Uncharted Isle", you can see the island very clearly on the map. There are two primitive humans named Gonk and Sylvia. Sylvia used to be a civilized human, but decided to be a cavewoman instead after visiting the island to study it (and became Gonk's girlfriend). Bobaboo, a small green triceratops, is a curious animal and Gonk's friend. Sir Vincent Skullfinder is a historian and explorer who visited the island to find fossils, and trapped Bobaboo in order to donate him to some researchers (but is stopped by you, Lyndsay, and Buddy). Read more about The Uncharted Isle here! | October 31, 2009 - November 7, 2009 |
| | Cowboy Junction is a desert town and island located in King Roland's kingdom. It is a large island that consists of a pizza cafe, a blacksmith, a pasture for Roxie Road's cows, Chef Gino's farm, a mountain perfect for mining, a town jail, Roxie Road's residence and Rusty's hillside home. According to Barney's atlas of the kingdom, Cowboy Junction doesn't get a lot of rainfall. The island gets its fresh water from underground springs and its residents use the water pumps to get water for plants and other uses. Read more on Main Street here. | November 14, 2009 - November 21, 2009 |
| | The Fun Prospecting Cave is a cave found deep in the trees of your town's Forest. It has a multitude of essences that Fun Sims will love, such as Soccer Balls, Musical Notes, and Magic Carpets. The cave shines in a beautiful golden color. Read more on this cave here. | November 21, 2009 - December 22, 2009 |
| | Main Street is a peaceful neighborhood in MySims Agents. It is where the detective player begins their journey into becoming an agent. There are many kind and caring citizens that need your help. It is home to people such as Mayor Skip Rogers, hair stylist Shirley, and partygoer Rhonda. The Main Street is also where the player first confronts Morcubus in his quest for world domination. To read more about Main Street, click here. | December 22, 2009 - December 29, 2009 |
| | The Boardwalk is a pier and beach for Sims to enjoy their time at. It is very calm and relaxing with it's welcoming residents. The Boardwalk is a great place to get surfing lessons from Luke or watch Chaz's stunt show! You can also enjoy one of Goth Boy's turkeys-on-a-fork or get one of Justice's tattoos. Go on in the water and splash around with Taylor and Clara, just be sure to stay close enough to where Summer can see you. To read more about the Boardwalk, click here! | December 29, 2009 - April 3, 2012 |
| | The Desert is a location in MySims for the Wii and PC. Home to a graveyard and lots of fossils, the desert can be quite a spooky place for some, however, there is a beach and a friendly neighborhood for you to build up which should lighten the area up. To read more about the Desert, click here! | April 3, 2012 - April 10, 2012 |
| | The Headquarters is a building in MySims Agents. It is your main centre of operations and a major branch of the Sim Protection Agency. In all, there are 5 floors which you can hire agents to work. Here, you can send your hired agents on dispatch missions. To read more about the Headquarters, click here! | April 10, 2012 - April 13, 2013 |
| | Trevor Island is one of the islands accessible in MySims Kingdom. It is a renaissance and drama themed place, home to the famous actor Trevor Verily, and two of his fans, Gordon and Linda. On the island, you can take part of Trevor's plays and just enjoy the atmosphere. To read more about this truly elegant island, click here. | April 13, 2013 - April 27, 2013 |
| | The Mountains (sometimes known as The Chalet), are an area accessible in MySims Agents. It is a cold winter resort home to Professor Nova's ski lodge and gift shop. When you arrive, you are caught in the middle of an investigation performed by Rosalyn and Vic on who has been vandalizing the lodge. It is up to you to solve the mystery. Other residents of the area include Beebee and Preston, as well as the yeti, Paul. To read more about this area, click here. | April 27, 2013 - May 11, 2013 |
| | The Stunt Land Theme Park is one of the subsections of Speedville. It is a canyon that has been converted into, well, a stunt park. It contains many daring racetracks as well as Roxie's ice cream parlor and Vic's arcade. In this area, the player must face Violet in a race as MorcuCorp forces her against you. To read more about this area, click here. | May 11, 2013 - February 16, 2014 |
| | Cyrus Boudreaux owned a Victorian-style mansion called the Boudreaux Mansion, and employed Carl as his butler. This mansion is found in the bayou. After Cyrus dies, a will reading is to be held at the mansion while his niece, Madame Zoe, lives in the estate. This is where the Fortunite Crystal was found broken. To read more about this area, click here. | February 16, 2014 - May 31, 2014 |
| | Jungle Temple is the last location in MySims Agents. It has a big temple, Moon and Sun Shrines, and The Gaia tree on the outside. The inside of the big temple has the Temple Grotto, Fire Room, the Wind Room, and the Water Room. All of these are part of the things you need to get inside the temple, knowing the four things you need is for each room In the Temple. Read more about Jungle Temple here. | May 31, 2014 - |