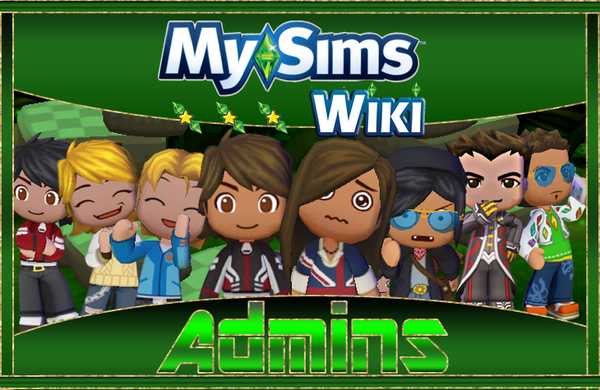 Hi! Welcome to the MySims Wiki Administrators page. Admins are basically the managers here at MySims Wiki, watch over the Wiki, and are probably one of the most active users on the Wiki. The admins make sure the Wiki's doing great and that there are no problems occurring such as vandalism.
Admins are recommended users to ask questions and talk with if you have any problems regarding the Wiki. They are one of the most knowledgable members of MySims Wiki, so why not drop a message on their Talk page if you have any questions? They'll answer you as quick as possible!
Below is a list of all administrators in MySims Wiki history, and a bit about them so you can learn more about them!
See also: Category:MySims Wiki Administrators
MySims Wiki Administrators
User
Op Date
Bio
Status: Active


Holhol1235

23 February 2012

Holden first joined the Wiki on April 10, 2010, and from there became increasingly active on the Wiki. While he didn't spend his time editing articles, most of his activities were focused on getting to know the community. He was first nominated as an admin during November, 2010, but didn't become one until 2 years later.


If you need any help, don't hesitate to stop by and give him a message!

Status: Active


Potterfan1997

14 March 2012
Potter (or Josh) first joined the wiki as an AU for the majority of 2010, but actually signed up into the wiki on September 16, 2010. Since then he has remained active and comes on most days, although, not being a massive page editor, he tries to help out the community and stuff. He is now helping to run the Character Battles along with Iona and Googley. He was promoted by Holli on the the 14th of March, 2012 and is still active so feel free to contact him if you need any help.
Status: Active


Googleybear

3 June 2012
Googley joined back in June 2010 and still contributes on a regular basis. He is a keen creator and likes to make graphics using Photoshop. Googley creates various images for the wiki and has helped out on several community projects here, so if you'd like him to design something for you, feel free to ask. MySims Agents is his favourite game from the MySims series, but he also enjoys Sims 3. Googleybear is still very much active, so you can contact him on his talk page and he will be sure to answer your questions or requests.



Inactive MySims Wiki Administrators
User
Op Date
Bio
Status: Inactive


BlankyXP

25 May 2009

Blanky is the 4th admin of MySims Wiki and a veteran user, first joining on April 29, 2009. She was promoted about a month later on May 25, 2009 for her hard work on articles for characters, essences, locations, among other things. She is most often seen these days creating templates, helping out users, and interacting with the rest of the community. Blanky also manages the design of the Wiki (such as the skin, buttons, and many banners). Her favorite Sim is Leaf.





Blanky left the Wiki in 2012, and focuses her attention on other websites.

Status: Inactive


Skull26374

12 June 2009

Skull26374 was promoted to administrator on June 12, 2009 for his hard work and dedication on this Wiki. He can generally be found updating pages, and the featured things, as well as heading games. Don't forget to read his show, Battle of the Sim-est!


Status: Inactive


Dentface

18 October 2009

Dentface joined MySims Wiki shortly after the release of MySims Racing, and ever since, has contributed as much as he could. Eventually, he was promoted.


Dentface left the Wiki back in 2011, and occasionally stops by to give a friendly "hello" now and then.

Status: Inactive


Riot\AU

21 November 2010

Riot first joined MySims Wiki as an anonymous contributor in the September of 2009. He was a nominee for admin in early 2010, though he wasn't promoted til' November. Riot often edits tab articles and category pages, along with some attempts at cooling down several arguments on the wiki.


Riot left the Wiki back in 2011, and has since shifted his activity elsewhere (hint hint he basically just sleeps all day now).

Status: Inactive


Gold710

11 May 2013
Gold joined the wiki in late September of 2010 as an anonymous user (AU). After a few days of browsing the wiki, he (with the help of some fellow users) created an account, and Gold710 was officially born. He was promoted 3 years later, along with his good buddy Luke below, for their dedication to the wiki. Gold is often found on chat, making other users laugh, but also offering good advice in times of need. Be sure to ask him for help should you ever need it!
Status: Inactive


RandomDude101

11 May 2013
Luke joined the wiki on January 11, 2010 and quickly became active in the community. After three years, he was finally promoted. He has a bit of experience in modding MySims PC and can do basic edits in GIMP. He is most often in the chat. If you have any questions, don't hesitate to ask him!

Former MySims Wiki Administrators
User
Op Date
Bio
Status: Inactive


Rbfskywalker

11 January 2009
Rbfskywalker joined this wiki on January 11, 2009 and has been working on templates and introduced the concept of tabs to this wiki which are very helpful to character pages.




Rbfskywalker has been inactive for over a year, and as a result, his admin rights have been removed until he comes back, if ever, and becomes active again.


Status: Inactive


Game-fanatic

18 October 2009

Game-fanatic (otherwise known as the Anteater) has been one of the MySims Wiki's longest users. He often communicates with the community and tries to help others out as much as possible. He eventually was promoted to admin on October 2009. He once was an unregistered user, trying to get the hang of it, but ever since then he's done the best he could to benefit the wiki in various ways! He has had experience helping many users from common struggles, like templates, to even learning himself!





Game-fanatic has been inactive for over a year, and as a result, his admin rights have been removed until he comes back, if ever, and becomes active again.

Status: Inactive


Neural777

6 February 2010

Neural777 is one of the admins of MySims Wiki. He is known for being a huge fan of the bee dressed Sim Roxie Road. He was promoted because he is able to help with spam and trolls. He also seems to like some girlish stuff (like the color pink), but he is very friendly. Neural can also be called "Falcon" (due to being "FireFalcon79" on other websites), and he usually acts mostly like Blanky (but he doesn't normally do that at other places). Oh, and that Sim on the left? That's not Neural. That's his Sim, Kevin.





Neural777 has been inactive for over a year, and as a result, his admin rights have been removed until he comes back, if ever, and becomes active again.

Status: Inactive

-no pic available-
Darkrudie

creator of this wiki
Darkrudie set up this wiki in December 2008 and has employed some SysOps to help him run the wiki. Unfortunately, Darkrudie has been inactive, so please direct any questions or problems you may have to the other admins.




Darkrudie has been inactive for over a year, and as a result, his admin rights have been removed until he comes back, if ever, and becomes active again.


Status: Inactive


Mistertrouble189

12 January 2009

Mistertrouble189, hailing from New Jersey, a fan of the MySims series, joined this wiki in late 2008 and was promoted to SysOp on January 12, 2009. Since then, he's been busy creating articles, adding images, editing pages and welcoming users. He takes pride and joy on this wiki and works hard to make sure everything is running smoothly, answering user's concerns, tending to maintenance issues, communicating with other administrators and checking up on everything!





Mistertrouble189 has been inactive for over a year, and as a result, his admin rights have been removed until he comes back, if ever, and becomes active again.

Status: Inactive


Iona123

3 June 2012
Iona has not been on Wikia very long. So, imagine the shock she had when typing this. Iona joined back in January 2012, not long ago, and still loves the MySims series. She's rather experienced with Paint (the editing program, Iona makes a real mess with real paint) and makes a few images on there. If you need any help, you can ask Iona, she's a quick learner. What colour is this box?




Iona123 has been inactive for over a year, and as a result, her admin rights have been removed until she comes back, if ever, and becomes active again.
FAQ
Q: What can admins do exactly...?
A: Different users have access to different functions of the site. While anyone can do most things on the site, including reading and editing, administrators can access a few additional functions. Admins are given the following functions:
Deleting and undeleting pages, page histories, and uploaded files.
Locking (se below for more info) a page so it cannot be edited or renamed by users without admin rights or autoconfirmed status.
Blocking IP addresses or user names from editing; and very quick "rollback" of undesirable edits.
Editing the interface by changing system messages and skins.

Q: How do I use administrator powers?
A: See Help:Administrators' how-to guide for a guide on using admin powers.

Q: Hey! I want to become an admin!
A: Not just anyone can become an admin. Potential admins must at least possess at least 2 or all 3 of these traits:
Extremely active.
Make extremely helpful edits that benefit the Wiki, like adding lots of information to alot of the articles.
A well-known, reputable member of the community for at least 5 months or so. Since an admin must be really responsible, being an admin isn't just something you can be after a week.
Even if you possess these traits, that doesn't mean you're going to become an admin right away. Admin elections are only held in times of emergency, or if there are less than 2-3 active admins.
Admins must also be friendly to the other members of the community, and must always try to be as calm as they can in dire situations.
Admins must also type in good grammar, or at the very least, when making articles, try to type in the best grammar possible. If it's something very urgent, admins may speak in chatspeak to other members on Talk pages, but they must type in correct grammar in actual articles. Chatspeak on articles makes the Wiki look messy and irresponsible. They also frequently have to follow the adequate standards for the Wiki, like signing their messages properly/using word bubbles, and should not have other members of the community marking their messages unsigned. Potential admins must also seem at least willing to help others, and should be friendly. Potential admins should not make typical messages like this either:
lol i donno i lyk chiken frys do u lyk chiken frys my favoorit 1s r from kfc!!!!!11111 —Preceding unsigned comment added by some person (talk • contribs)
What's wrong with this message? Well, for one, the grammar is incorrect. And the message was unsigned and had to be marked unsigned by another member. There's also the silliness, but Skull, Holli, Potter, Google and Iona are all extremely off their rockers, so we guess we can let you go with the silliness, unless you sound like some madman all the time and are never serious.
Think of it this way: if you keep begging for admin powers, this might kind of put off someone for making you an admin. You will seem immature and people might think you just want administrative powers to just look "cool". Even after becoming an admin, you still will have to keep your position by still being helpful on the Wiki. You shouldn't only contribute just for being an admin.
As you can see, we have extremely high standards for admins, as it's a very important position. Admins must be extremely dedicated to editing the Wiki. Admins don't have much more additional functions besides locking pages, changing the Wiki's CSS coding, and such, so being an admin isn't really as cool as it might sound.

Q: What should administrators not do?
A: Administrators should not use their administrator powers to settle editing disputes; for example, to lock a page on a version he or she prefers in an editing dispute that isn't vandalism. Administrator powers should be used to help keep the wiki clear of vandalism, spam, and users who make malicious edits, but not for simple disagreements between users acting in good faith. Ideally an admin shouldn't be considered "in charge". The ideal admin is just someone who is trusted to have a few extra buttons and to use them for the benefit of the Wikia community.
Protecting/Locking Pages
Administrators can protect and unprotect pages, including ones that do not exist. Protection of a page or image usually means that a non-admin cannot modify it.
The majority of pages on all Wikia should remain publicly editable, and not protected. Pages may, however, be temporarily or permanently protected for legal reasons (for example, license texts should not be changed) or in cases of extreme vandalism or edit warring or abusive re-creation.
Uses
Protecting highly vandalised pages, such as the Main Page on large wikis.
Maintaining the integrity of the site's logo and favicon.
Maintaining the integrity of key copyright and license pages.
Preventing repeatedly created vandal or spam pages from creation. See Special:Protectedtitles
Protecting the interface and system messages in the MediaWiki namespace (these are protected automatically)
A temporary protection is used for:
Enforcing a "cool down" period to stop an "edit war", upon request.
Protecting a page or image that has been a recent target of persistent vandalism or persistent edits by a banned user.
There is no need to protect personal .css and .js pages like user/monobook.css or user/cologneblue.js. Only the accounts associated with these pages (and admins) are able to edit them. (For more information on using these pages, see Help:User style)
Most pages and images are unprotected by default, only the site logo and favicons are automatically protected. You can protect editing, moving, or both by checking or unchecking the Unlock move permissions selection box.
(default) means any user, whether logged in or anonymous, can edit or move the page.
Block unregistered users, or semi-protected, means anonymous users and new accounts less than 4 days old cannot edit and/or move pages.
Sysops only, or fully-protected, means only administrators may edit and/or move the page.
Pages can also be cascade protected, this will cause all images, pages, or templates transcluded onto the page to be fully protected, even if the main article is only semi-protected.
Rules
Do not make the common mistake of protecting pages unnecessarily. For example, do not protect a page simply because it is the Main Page.
Do not edit a temporarily protected page except to add a notice explaining the page is protected.
Do not protect a page you are involved in an edit dispute over. Admin powers are not editor privileges - admins should only act as servants to the user community at large.
Avoid favoring one version of the article over another, unless one version is vandalism.
Temporarily protected pages should not be left protected for very long.
Talk pages and user talk pages are not protected except in extreme circumstances.
The protection of a page on any particular version is not meant to express support for that version and requests should therefore not be made that the protected version be reverted to a different one.
Community content is available under
CC-BY-SA
unless otherwise noted.