For the area in MySims Racing, see Snowy Mountain.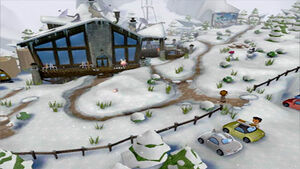 The Mountains (also known as the Chalet), is a snowy region outside of the City. It is visited after solving Evelyn Gray's case on Main Street. You are there to solve the disappearance of a young man named Preston Winthrop Esquire. He and his girlfriend Beebee were in the mountains picnicing, when Beebee left and Preston claimed he was taken by a yeti. Rosalyn and Vic, government agents, were sent to investigate the case. You end up meeting a yeti in a cave high in the mountains, Preston returns, and the lodge is vandalized. He claims he was held by a yeti but there is no evidence. You later solve that Preston vandalized the lodge in a yeti costume and he wanted to buy the lodge to acquire enough land to build one of his watter bottle factories.
The Ice Chalet ski lodge and gift shop
Mid-Mountain Slopes
Upper Ranger Station
Lower Ranger Station
Abandoned Mine
Paul's Cave
Summit
Local residents and visitors
Edit
Everyone here except Paul eventually live at the HQ once this place is completed.
Bunnies, local burrowers
Wolfah, pet wolf and tracker
Community content is available under
CC-BY-SA
unless otherwise noted.