Ian Arneson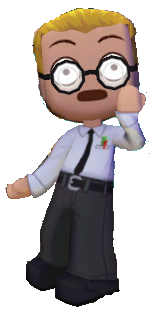 Character Info

Edit
| | |
| --- | --- |
| Townie or Commercial? | Townie Sim |
| Star Level | Star Level 4 |
| Role | Typical Resident |
| Residence Name | Ian Arneson's House |
Ian Arneson is a nerd who was raised by Elmira Clamp (his aunt). He often talks about machinery and has a very sophisticated, intelligent way of speech. Despite his academic appearance, he enjoys Geeky things.
Ian Arneson is a quiet, well-mannered boy. Why? He was raised in a library by his Aunt Elmira!
Interests
Edit
Loves

Geeky
Likes

Tasty
Hates
Fun
Hotel introduction
Edit
Hello, my name is Ian. I specialize in building prototypes that simulate complex behaviors.
Accept move-in
Edit
Ok. I don't have a house, though, so you'd have to build me one.
After you build house
Edit
I'm glad there's a house for me to live in now. Thank you.
Request for more stuff
Edit
I really wish my house was just filled with machinery that would allow me to simulate complex behaviors.
Star Level 4
Edit
I generated a computer program for my aunt that allowed her to keep track of library books. But someday I hope to build a robot that will do this for her.
I'm currently devising a prototype that simulates fluid dynamics. What programming language do you recommend I build it in?
My bookish demeanor may be due to my being raised in a library by my Aunt Elmira. I suppose there is nothing that can be done about it now.
Star Level 5
Edit
You can never be truly certain of an idea unless it is prototyped and tested. This is what I believe.
Best friend
Edit
Having thoroughly tested the prototype, I am declaring our trial friendship a complete success. Now to begin work on simulating a Best Friend Forever scenario…
Best friend reward
Edit
Bookshelf - Magnetic blueprint
On the back of the MySims case Ian is shown with brown hair, it was most likely the original art for him. (Like Iggy's original art, and Makoto's, on the front.)
Ian's aunt is Elmira Clamp.
Ian makes cameo appearances in MySims Racing, after you complete the Town Cup, as a resident of Speedville.
Ian and Clayton Dander are the only Geeky Sims who don't appear in any other games.
Ian appears in SimCity Creator as the Utilities Advisor for the city.
Out of the sims that have a blueprint as their best friend reward, Ian is the only one to not complain when it's missing from their house (apart from Cassandra, who doesn't have a house).
He shares his interests with Spencer.
Foreign names
Edit
English: Ian Arneson
Polish: Jan Arneson
Spanish: Yago Aranda
Community content is available under
CC-BY-SA
unless otherwise noted.