Grandma Ruthie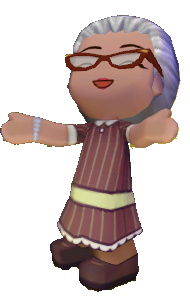 Character Info

Edit
| | |
| --- | --- |
| Townie or Commercial? | Townie Sim |
| Star Level | Star Level 4 |
| Role | CEO of Cookie Company |
| Residence Name | Grandma Ruthie's House |
Grandma Ruthie comes to your town hoping to have a chance to settle down. She is a sweet old lady who asks for nothing more than a small cottage. She dresses in a dark-beige ankle length dress with frilly white edges. She owns Grandma Ruthie's Oatmeal Cookies Business and is interested in tasty things.
Profile
Do you want to know the secret ingredient that made Grandma Ruthie's Oatmeal Cookies a colossal success? Marketing.
Interests
Hates
Dialogue
Hotel Introduction
Well hello, dear. I'm Grandma Ruthie. I'm known for making Grandma Ruthie's Oatmeal Cookies. I'm also president and CEO of RuthieCo., a division of Hollard Foods Inc. Isn't that neat?
Accept Move-In
Well, that sounds lovely, dear. I'd be happy to live in [town name].
After You Build House
Oh, this house is just fine, [player name]. It reminds me of the little cottage where I whipped up my very first batch of soft, chewy oatmeal cookies.
Request For More Stuff
Oh, dearie, this is just fine. Don't feel like you need to give me anything.
Star Level 4
I personally add the dash of cinnamon that goes into every batch of Grandma Ruthie's Oatmeal Cookies. It's pretty much a full-time job!
My Oatmeal Cookies taste better because they're made with love. And 23 different kinds of flavor enhancement agents.
Star Level 5
That's my picture you see on every bag of Grandma Ruthie's Oatmeal Cookies. It was taken many, many years ago, and then artificially aged so I would look more charming.
When I saw my granddaughter bite into one of my oatmeal cookies and grin ear to ear, that's when I knew they were a success. That, and the day I made my first million Simoleons.
Best Friend
Oh, isn't this neat? Aren't you just a perfect dear? Thank you, [player name].
Best Friend Reward