Bean Bradley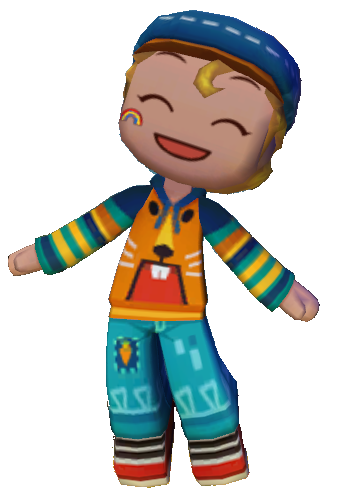 Character Info

Edit
Bean Bradley is a potential resident that can move into your town. He will visit the town and stay at the town hotel once your town picks up in its population and overall satisfaction among the residents. This retired commercial star is a cute guy and would love to have the chance to settle on down in town, away from the havoc movie-star life in the city. Bean is characterized with curly blonde hair covered by a blue cap, has sparkling blue eyes, and a rainbow tattoo on his right cheek. He wears a hoodie with an orange rat on it, wears cyan pants decorated with white swirls and a carrot patch, and a pair of red sneakers.
This is Bean Bradley, former child actor. (As an infant, he starred in a series of baby food commercials.)
Interests
Edit
Dialogue
Edit
Hotel Introduction
Edit
Hi there! My friends call me Bean! Do you like my hoodie? My grandma got it for me.
Accept Move-In
Edit
Oh, cool! Can I get a house? Do a lot of people live here? I love making new friends.
After You Build House
Edit
Omigosh! My place is so big! Do I really get so much space? Can my friends come over? This is the best!
Request For More Stuff
Edit
I like stuff that's really bright and colorful. It makes me feel happy. Do you have a favorite color? I love crayons.
Star Level 3
Edit
Hey! Did you know I used to do TV commercials for baby food? It's true! It was all glitz and glamour at first, but then the parties started to get kind of crazy. Boy, fame is rough!
Star Level 4
Edit
[town name] is awesome! It has so much stuff! Did you really build all this stuff? How did you build all this stuff?
Star Level 5
Edit
[town name] is the best! Can I ask everyone I know to live here? I'm gonna ask my grandma to get hoodies for the whole town! Hurrah!
Best Friend
Edit
Hooray! [player name] is my best friend! Am I your best friend, too? Should we get matching hoodies? Hooray!
Best Friend Reward
Edit
Television - Wavy blueprint
Foreign Name
Edit
English: Bean Bradley
Spanish: Benito Banús
German: Benny Böhnchen